Digital Marketing in Your Mailbox
You read that right.  Digital marketing in your physical mailbox.  You can now digitally preview your mail that's in route to your mailbox through the USPS' offering, Informed Delivery.  Informed Delivery allows you to see greyscale images of the exterior of letter-sized mail pieces before they arrive. "I signed up about a year ago," says Paul DeSantis, ANRO's CIO and VP of Strategy.
"Not wanting to get another daily email, I opted to use the app only. After a few weeks of spot checking the app on my phone, I was amazed how much of my mail my wife intercepted!  My "Things you never knew existed" catalog is still missing!  Joking aside, I enjoyed my new-found mailbox access and I eventually conceded and now get the daily email.  I often check it looking through the day's mail for items we are expecting.  Apparently, I am not the only one who likes being informed.  The 20-month old service has more than 25 million users! The program is included with your postage, so essentially you are getting an additional digital impression for free. Not to mention the impressive open rates; June remained well above average at 86.7%."
It's no secret that the way many people have consumed content over the past decade has changed dramatically. Consumers now expect that the content they receive is personalized and relevant to them, in real time. Rightfully so, as they are being bombarded with over 6,000 ads a day. Unfortunately, most advertisements are not personalized with the consumer in mind. They are typically static content or creepy tracking cookie ads and fail to create meaningful connections with users. For a business to continue to grow, it's very important to leverage good data to create personalized messaging for prospects and clients, but effective marketers don't stop there.  They carefully consider the channels that will deliver their messaging in the best way to the correct audience when they need it.
Historically, marketers have been challenged by limited resources and a lack of accurate data to work with.  Too many have focused their energy and budgets on one-time campaigns with static messaging with third-party lists, but typically fall short of expectations. Purchased list data, even from respected vendors, will require additional work to be used for proper targeting. Without effective tools to test and validate data it is impossible to be successful.
Often, cost limitations left marketers forced to use only digital channels of communication rather than an integrated channel approach. The low cost and ability to easily test digital marketing channels drove marketers to abandon conventional direct mail. Guess what? Not anymore! The past decade has yielded to a marketing revolution that requires an all-encompassing solution to client messaging.
The team of marketing developers at ANRO leverages a combination of legacy and digital marketing tools to drive hyper-personalized direct mail marketing initiatives for their clients.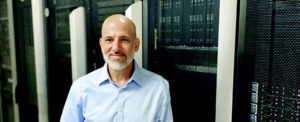 Enter Paul DeSantis and ANRO. Paul is ANRO's CIO & VP of Strategy.  He brought 10 years of Information Technology experience to ANRO, prior to his 22 years as ANRO's IT Lead and his current position.
"The digital production of direct mail has enabled testing scenarios that rival digital-only channels," says Paul. "We are seeing response rates increasing by 15-30% when clients add highly versioned or fully personalized direct mail that aligns with the user's needs."
"We believe that it is impossible to gauge the effectiveness of a campaign by looking at any single aspect or channel. We want to use a coordinated, multi-channel approach in marketing campaigns.  One example is Direct Mail Lead Match, which syncs direct mail to web analytics. We can leverage the mail list for a direct mail campaign and identify who has visited the client's website from the original mail list. This way we can effectively measure each campaign and create a perfect target audience for future communications.  It's true attrition."
You may be wondering how ANRO manages all the applications, data, and tactical templates required for these data driven campaigns. They created a private marketing cloud data center in West Chester, PA. This is where they manage customers' marketing data and powerful customer communications management (CCM) applications like Quadient Inspire and XMPie Uproduce to build custom marketing applications. ANRO's array of marketing tools allows them to create, manage, and deliver seamless customer communications across multiple channels at scale.  Paul and his team of marketing developers utilize MS SQL Databases and Visual Studio to create and manage applications that enforce business rules and logic required by clients.
"We build applications that automate campaigns with triggers driving tactics, for drip or always-on programs. All the required assets and operations are embedded into these applications that run automatically and indefinitely," adds DeSantis.
DeSantis recalls an instance where ANRO worked with a large enterprise that was sending two million prospecting emails and direct mail letters every month.  While working with the client, the team at ANRO learned that a large percentage of responses that they received were about requests for a Spanish speaking store locations. The ANRO team suggested adding a personalized map showing the recipient's home and all the store locations within 10 miles, identifying the locations with Spanish speaking staff. Additionally, a Spanish translated layer was added into the digital tactic template. This resulted in a 34% increased response rate for the campaign.  This is just one of the many success stories that ANRO has scripted over the years for businesses seeking to reach their target markets in the best possible way. The company has also taken data security a step further. They check all the boxes for privacy and security, and maintain a SOC 2 Type 2, HIPAA, and PCI compliant operation.
Paul and ANRO understand the need for a powerful, cost effective, streamlined solution for marketers and continue to innovate with the digital first mindset.
Fastest time to market
Improved analytics
Increases Cost Savings for Customer
High Quality Controls
Enterprise Grade Security
ANRO is strongly positioned to manage customers' brand expressions in a personalized fashion. As competition rises and marketers continue to look for effective ways to reach out to their target audiences, ANRO helps them explore all the possible channels.
Reach out to Paul @ PJD@anro.com for more information about digital integration and how ANRO can help.