Postage Rates Rise Again in 2021
It's true… beginning on August 29th, the USPS will be increasing the postage rates for many classes of direct mail. This is the second postage rate increase scheduled in 2021.  On average, the overall increase in postage is around 6.8%.
Here's a quick reference for some of the increases that you can expect to see: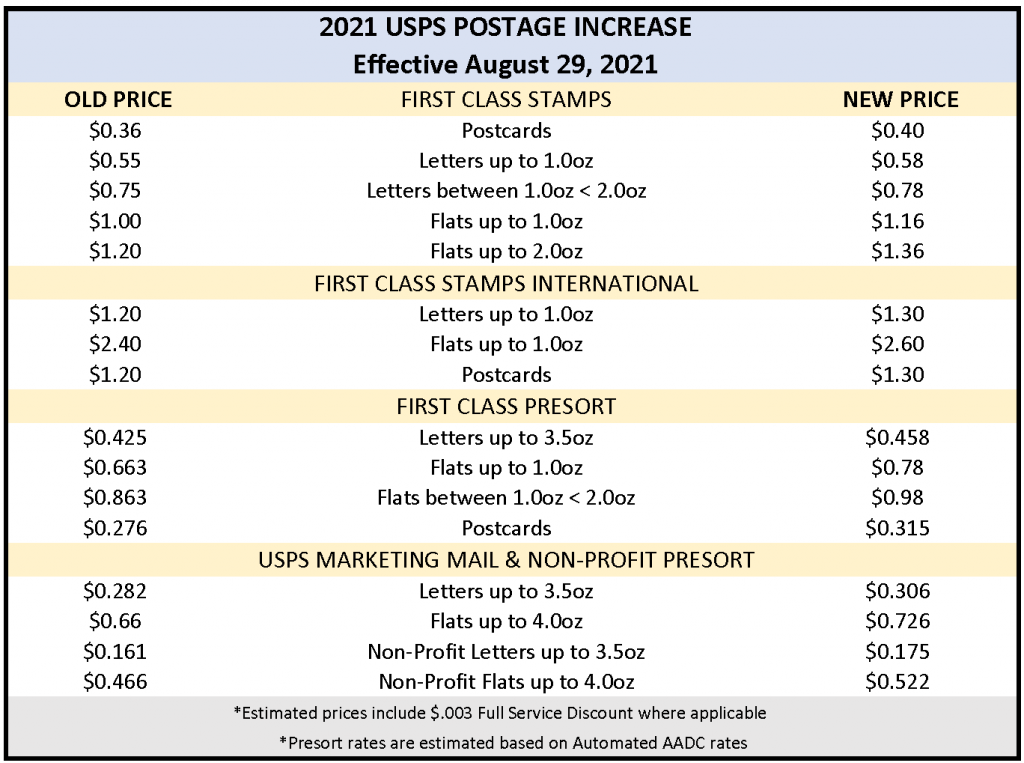 While these increases will have an impact on marketers' budgets moving forward, there is also some good news from the USPS that we're excited to share!
The Good News – Maximum Size of Postcards Increased!
Beginning August 29th, the maximum size for First Class Presort Postcards will increase to 6″ x 9″ (previously 4.25″ x 6″)!  This gives direct mail marketers much more real estate to communicate important offers and truly get their message across.
Previously, if you mailed a postcard that was larger than the postcard maximum size of 4.25″ x 6.0″, your postage rate was bumped up to the letter-rate, which was substantially higher than the postcard rate.  For example, today, if you mailed a 6×9″ postcard via First Class Presort, you'd pay an estimated postage around $0.425 per piece. Beginning August 29th however, if you mail a 6″x9″ postcard via First Class Presort, your postage falls into the postcard rate, estimated at $0.315 per piece!
Important reminders: the postcard must have a thickness between .009″ and .016″, and the aspect ratio requirements still apply (between 1.3 and 2.5). The minimum postcard size is still 3.5″x5″.
Looking Forward to 2022 USPS Promotions
To further encourage the use of direct mail and showcase the value that it has for marketers, the USPS has also announced the list of promotions that we can look forward to beginning in February, 2021.  Those promotions include:
Tactile, Sensory and Interactive Mailpiece Engagement Promotion
Emerging and Advanced Technology Promotion
Earned Value Reply Mail Promotion
Personalized Color Transpromo Promotion
Mobile Shopping Promotion
Informed Delivery Promotion
You can check out the full details of the 2022 promotional calendar here.  While many of these are similar to the 2021 promotions, the discounts in 2022 seem to be equal to or higher than the 2021 2% discount offerings, offsetting some of the postage rate increase burden.
Don't Forget, Take Advantage of Current 2021 USPS Promotions!
There are promotions going on right now that offer discounted postage rates for the remainder of 2021!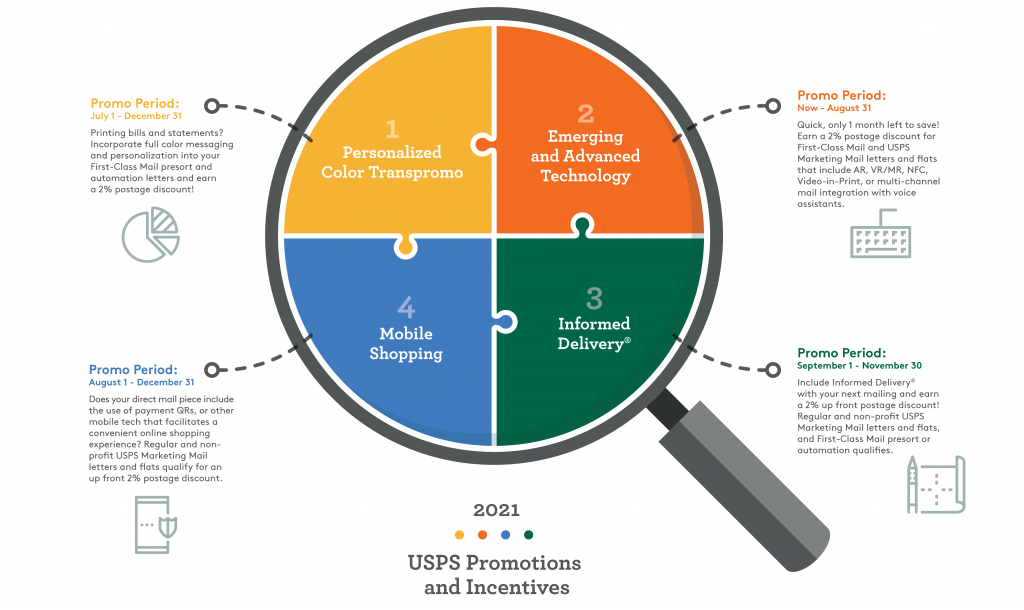 Not sure if your mail qualifies?  Want to discuss ideas and innovative ways that you may be able to take advantage of these promotions and incentives?  We're standing by and ready to help you take your direct mail marketing to the next level.
For a comprehensive list of the August 29th Postal Increases, go to USPS.com
For questions about postage for your next direct mail marketing campaign, reach out to me directly at Jamie.Krall@anro.com.