8 Things to Know When Planning Your First Direct Mail Campaign
Maybe the compelling stats boasting direct mail response rates piqued your interest… like these:

&

59% find it more useful than information they receive digitally

Or maybe you're a savvy digital marketer and email marketing, SEO, and social media alone has worked really well for your company.  Maybe the higher ups require clear attribution for every marketing dollar you spend, and traditionally, that has been difficult to prove with direct mail.  Perhaps you've never been in a position before now to consider direct mail as a part of your marketing strategy.  Or maybe you jumped on the (dreadfully inaccurate) "Direct Mail is Dead" train and now you're looking in the rear-view with regret.
Whatever the reason for you being new to direct mail, don't worry.  We've worked with direct mail customers for decades and learned a few things along the way.  Plan and execute your first direct mail campaign seamlessly, with these helpful tips:
1.   The Mail List.
The mail list is made up of your target audience.  Who are you trying to reach with your direct mail communication?  It's critical to understand and clearly define your target audience to ensure your direct mail message is written in a relevant way. There are several ways you can build a mail list.
House List – If your business has been around for a while, you likely have an existing customer list.  This is a list of customers that have purchased your products already.  You may also have a prospect list, or a list of companies or individuals that your sales team is actively trying to convert into customers.  Your marketing team may have an active list of leads, or people that have shown interest or intent to purchase your products or services.  These leads may have already interacted with the brand in some way.
Typically, if you compile a mail list from any of this data, you will yield higher results from your direct mail campaign.  This is because these individuals already have some level of brand awareness.  They may have experience with your products and services or may have indicated an interest in what you're offering.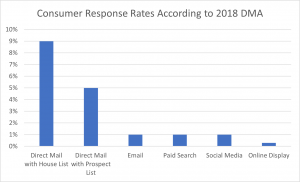 According to the 2018 ANA/DMA response rate report, the average response rate of direct mail for a house list is 9%, compared to 4.9% for a prospect list.  If you have a CRM system, exporting a mail list is generally a simple thing to do.  Export based on geography, demographics, psychographics, or other target audience parameters that you've defined.
Mail List Provider – You may not be sure about the accuracy of your house data, or it may not be up to date.  In this case, you may prefer to purchase a mail list from a reputable list provider.  Most providers guarantee a high level of accuracy and offer very granular search options, giving you highly targeted data.  You can share your target market requirements and the list provider will advise how many addresses they have on file that match your search criteria.
Keep in mind, most lists come as a single-use or multi-use list, and the list may have expiration dates for use.  Be sure to ask your list provider what the use requirements are, to ensure you're using the list according to their rules.
Combination House List & Purchased – If you're looking for a way to boost your house list, it's possible to increase your mail list counts to reach additional target audience members.  This can be done by identifying other accounts that share similarities in demographics or other target criteria with your existing list.
A mail list provider can analyze your house list and identify similar accounts within those industries/geographies or any other data point you'd like to cross reference. This way, you can expand your target list based on data points that you know have been successful in the past.  We call this appending data, and running a "look-alike" mail list.  Some full-service direct mail companies, like ANRO, provide this service as an add-on, so ask your printer if they provide mail list services.
Regardless of how you acquire your mail list, this will drive the quantity and dictate the reach of your direct mail campaign, so it's an important step in your planning process.
Basic fields to include in your mail file:
1. Company Name (if applicable)
2. Job Title (if applicable)
3. Titles (prefixing a name, like Mr., Mrs., or Dr.)
4. First Name
5. Last Name
6. Street Address Line 1
7. Street Address Line 2
8. City
9. State
10. Zip Code
2.   Direct Mail Format.
The format of your direct mail piece is very important.  It can significantly impact the costs of the entire campaign, as well as the response rates.
A good design will ultimately:
Present the information clearly and concisely

What are you telling the reader?

Present an easy-to-read call-to-action

What action do you want the reader to take?

Meet the USPS requirements for machinability

Accurate addressing, size, and weight requirements.
Your full-service print partner should be able to review your direct mail format and make recommendations on design tweaks that ensure you meet the USPS regulations.  Your printer will also process your mail list data through special software to ensure address accuracy and create an Intelligent Mail Barcode (IMB) to achieve automation postage rates.  All of these processes ensure deliverability and remove records that do not meet the standards.
Postcards are best for promotional offers where an engaging image and a short compelling offer prompts the end user to act.  The recipient can quickly understand the message immediately.  Postcards also work well for consumers who are already familiar with a brand, to drive promotions, announcements, or to stay top of mind. Postcards are usually the least expensive format for print and postage.
Letter Packs are a direct mail standard.  They're familiar to recipients and can be perceived as containing important information or exclusive offers.  Letter packs are often the selected format for many credit card companies, financial services, healthcare, and insurance companies. They carry a perception of being official and they can often feel more personal, especially if they are addressed to the recipient directly with the use of personalized printing.  Letter packs provide more real estate to explain a complex offer or to tell a longer story about a brand.  They create an element of curiosity before opening the envelope to see what's inside.
Self Mailers can be thought of as a hybrid of a postcard and a letter pack.  Unique folds and creative design elements can be used to surprise and delight your recipient.  Self mailers provide more real estate than a standard postcard, and the folds can help to build a revealing story as the piece is unfolded.
There is no one-size-fits-all when it comes to selecting the right format for your campaign.  Many brands test multiple formats to see which performs the best.  It's best to consider your audience, their preferences, and whether the information you are sending is personal. Then, select the format based on what your audience would prefer.
3.   Deliverables: What Assets Will I Need to Provide to My Printer?
Each printer may require different assets, but typically, it's best practice to provide:
The specifications of the print project (flat size, final size, stock weight and brand, inks and coatings, finishing requirements, shipping requirements, etc.)
A PDF of the direct mail piece(s)
Complete packaged native files (INDD files, for example) with links to all fonts.
Mail List
Any Special Instructions
The printer's prepress department will likely use the native files when setting up your project to print.  They can adjust any artwork for print without having to go back to your design team and ask them to revise the files.  If you have any special instructions for delivery of samples, now is the time to share that information.
4.   What Does the Production Process Look Like?
I get asked this question a lot from beginner direct mail marketers.  The one thing I always remind beginners is that printing a direct mail campaign is different than printing a report off your desktop computer at home.  There is no giant print button (that'd be cool though). There's no CTRL + P shortcut.  The process will be different depending on the type of printing (digital inkjet web, digital sheet-fed, conventional offset, etc.) but the basic process for production of a campaign at ANRO looks similar to this:

First, you supply the assets to the printer, usually through a secure method, such as an SFTP site.
Next, the printer initiates the job by creating a job ticket, and translating the specifications of the job into production specifications.
The prepress department preps the print files and the data processing team processes the mail list file for mailing.
A weight sample is created (white paper comp) using the exact materials that your project will be printed on, which is used along with the final mail count to generate a postage estimate according to your preferred delivery method.
Proofs are provided to you for final sign off. If changes are required, the proofs get marked up and they go back into prepress with a documented change order and the process is repeated until the proofs are approved.
Once approved, the project is printed using the best method of production that will produce the best quality and most economical process that matches the quantity, format, specifications, and materials required by your project.
After printing, the project moves to finishing. Finishing is any process that's done after printing, such as trimming, folding, gluing, inserting, inkjetting, applying wafer seals, etc. Each one of these processes is performed on large equipment that's set up specifically for your particular project.
At ANRO, we're a certified Mail Service Provider by the USPS, so we verify all mail on-site and drop into the mail stream directly for optimized delivery. 
5.   Timing: How Long Does It Take to Create a Direct Mail Campaign?
Print providers and direct mailers will typically give you a schedule from the time proofs are approved.  Many times, once proofs are created on a project, we will inevitably find a typo, or a low-res image, or some detail that needs to be changed to ensure top quality.  Anytime files are changed or new files are provided, this adds time to the schedule because it requires new proofs to be created.
To manage expectations, we will normally give you a schedule from the date of proof approval.  Every printer has different equipment and processes for manufacturing which result in different lead times pending the specs of a project.
ANRO has four different workflows enabled to accommodate different production processes, quantities, and levels of variability.  As a frame of reference, we can print 1-million VDP letter packs within 48 hours after proof approval.  But again, it all depends on the finishing process required for your particular project.
6.   How Much Does a Direct Mail Campaign Cost?
If asked too soon in the planning process, this question causes every print or direct mail account executive to cringe.  Here's why: There are about a million considerations that go into estimating a direct mail campaign.
Unlike a product that you purchase at a store, a direct mail campaign is only a concept initially.  Every creative decision (design, quantity, paper, ink colors, coatings, finishing techniques, postage, etc.) will affect the price of a campaign because it affects the manufacturing process.
Ultimately, before you can inquire about the cost of a direct mail piece, you'll want to have an idea of the following:
Quantity

(how many pieces are we printing and mailing?)

Specifications

Format
Size (Flat size & Final Size)
Stock Selection (Paper weight, finish, color, brand, opacity)
Ink Coverage, Colors, Coatings
Finishing (trim, fold, glue, binding method, special techniques)

Delivery method

First Class vs Standard Marketing Mail Postage?
Stamp, Indicia, Meter?

Personalization

Will the direct mail piece be personalized? ie. Varying graphics, images, or content, relevant to the recipient?

Digital integrations?

Are you mailing a direct mail campaign only or does this campaign marry into digital channels as well? If so, what are those elements?
When budgeting, ensure that you capture the printing costs (which include materials, ink, print, and bindery functions), mailing costs (mail list processing, inserting, addressing, and mailing), and postage costs. Most likely, the postage costs will be a significant percentage of the total cost.
It's important to keep in mind, that while the initial costs of a direct mail campaign may seem high as compared to other digital marketing efforts, direct mail is one of the most reliable forms of advertising.  Response rates are typically much higher for direct mail than other digital channels.  Both digital and print channels, when used together can increase conversion by 28%.
7.   How Can I Measure My Campaign's Success?
Traditionally, direct mail "success" was a bit elusive and considered difficult to measure back in the day.  We've come a long way as it relates to attribution, and now there are a handful of digital integrations that can be added to your direct mail to gain insight into the interactions, engagements, and revenue that it's generating.
Here are a few methods that will enable you to track direct mail KPIs:
Promotional Codes:

If your mail contains a promotional offer or coupon, requiring the code at the time of the sale, can help you attribute that sale back to the direct mail piece.

Unique Landing Page or Personalized URL (PURL):

On your direct mail piece, include a call to action that drives to a landing page that's unique to the campaign, or personalized to the recipient, you can track the number of visitors to that landing page or number of people that visited their PURL and took an action.

QR Codes:

This is another tactic that's gained momentous popularity during 2020 to drive recipients to a particular web page, where you can then measure the number of visitors and actions taken from there.

Masked Phone Number:

You can set up a dedicated toll-free number that's printed on your direct mail campaign and track the number of calls that come in through that number, thus attributing the action/sale to the direct mail piece.

Digital Integrations:

ANRO has an integrated digital marketing tool called Opt@MailTM that packages 6 different technologies all together into a neat little dashboard that will track all of the engagements, interactions, reach, calls, clicks, etc. that is a direct result of your direct mail campaign. It sounds too good to be true, but it's quite simple.  For more information, check out our post about Opt@Mail.
It would be really nice if a buyer's journey was as neat and tidy as simply receiving a direct mail piece, and following the call to action to the end sale.  However, history and marketing research has taught us that a buyer's journey is typically a culmination of starts and stops; intentions of going to a website and then being pulled away by interruptions.  That's why retargeting customers and reminding them of their previous interest is so important in today's marketplace.  And it's achievable through a mix of direct mail and digital integrations.
 8.   Postage Rates & In-Home Dates
The USPS gives us an idea of what postage rates are for most pieces of mail, based on size and weight requirements.  Postage is typically always additional to the print estimate (unless otherwise stated on the quote letter).  However, it's important to note that there are other factors that influence postage pricing aside from physical size, weight, thickness, and design.  Saturation rates of a list, how far the mail piece is traveling, whether the mail is presorted according to five-digit zips or AADC, etc. all affect the postage rate.
A full-service direct mail expert can take advantage of bulk mail perks, such as lower postage rates based on how well the mail is sorted before submitting to the USPS.  ANRO's data processing team is trained to analyze data and determine the best method for submitting mail to the USPS to maximize the postal discounts and we take advantage of other consolidation methods to offer the best rates.
What you, as a direct mail buyer should consider, is the pricing and the timing differences between the USPS mail classes.  First class, for example, is the most expensive method of mailing, but typically the fastest in-home delivery times, within 1 to 3 days.  First class presort, which requires at least 500 mail pieces, should deliver within 2-5 days and provides a discount to the first class rate.  If you have a legal mailing or a time sensitive offer, first class may be the way to go.  Keep in mind, if you plan ahead, you can save a significant amount of money on postage if you were to mail standard class.  Mailing Standard  can take between 5 and 14 days to deliver in homes, but usually costs over 50% less in postage rates.
Talk to your printer or direct mail partner and inquire what they're doing in order to guarantee you the lowest postage rates.  At ANRO, our team is highly skilled in identifying the best option for every mail list scenario.  Postage savings, freight charges and processing time are all taken into consideration to ensure every mailing leaves ANRO through the best method possible.
Have additional questions or want to talk through a direct mail campaign plan?  Reach out to me directly at Carlyle.Bauer@anro.com.  Happy Printing!